Guide to Online Reputation Management
Here are all the tools you need to improve your reputation online today. Everyone deserves a second chance.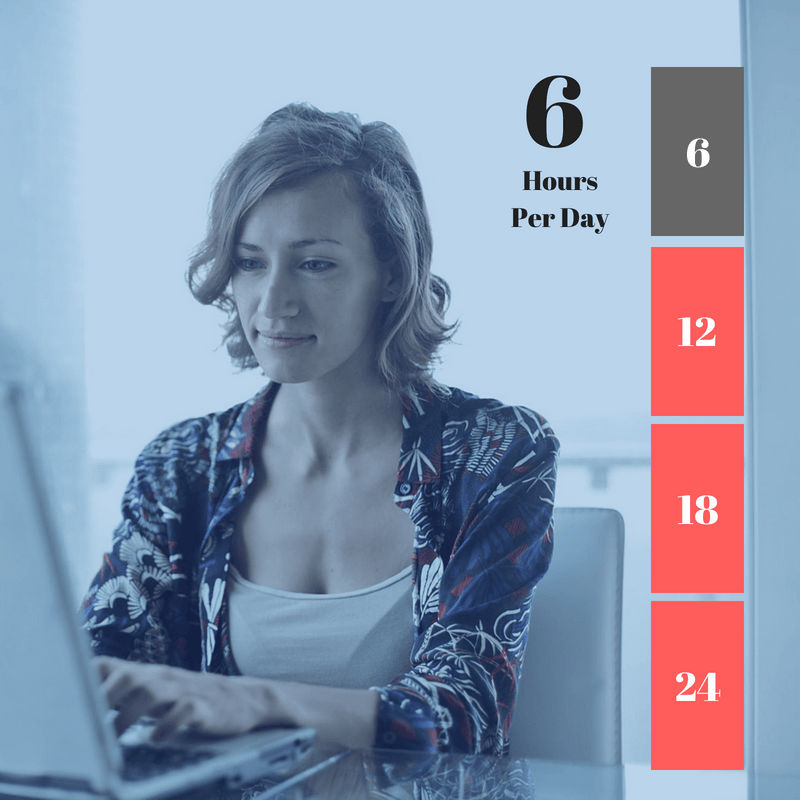 Why Does Online Reputation Matter?
How you appear online is crucial to your success in life. Online reputation is the overall image you portray to others on the internet.
Nowadays everyone turns to the internet as a "know all" source. Whether you are applying for a new job, moving or going on your first date. How you are perceived online is how the world sees you.
There are over 13.5 Billion searches on Google daily. How many are about you?
People on average spend 6 hours of there day online. 25% of your entire day is spent online, sharing ideas or products with your friends or simply browsing with no end goal. What are people seeing about you?
Online Presence Has a Tremendous Impact on Your Life.
Take control of your web presence. Whether it is about a personal or business matter, your online reputation controls your success and failure.
Some issues you can deal with yourself, however many times you would require a team depending on the severity of your situation. Make sure you are taking the proper steps to improve your online reputation today.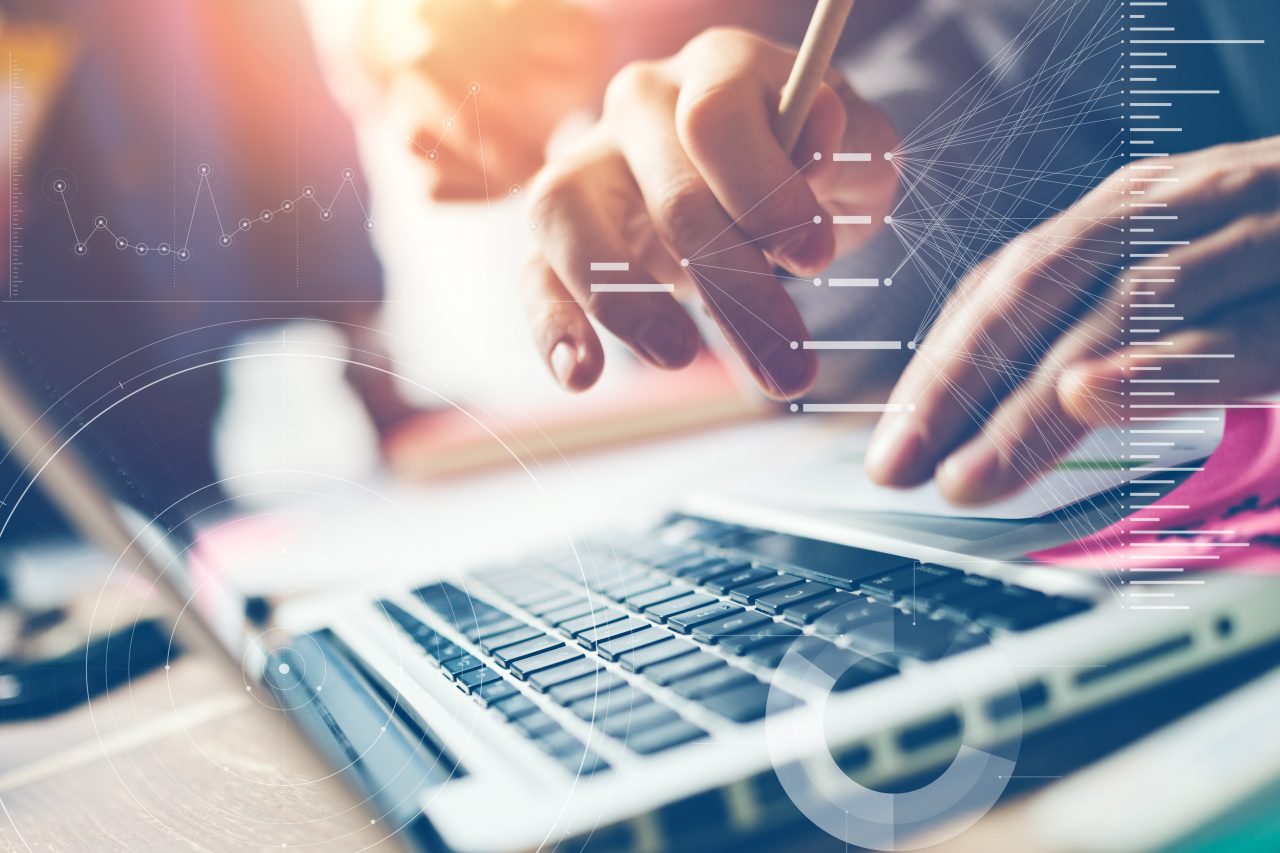 Have any questions? Speak to a knowledgeable team member today.
How online reputation management works
Control is important to have while managing your online reputation. Creation of content and promotion is what we do best.
Here is a fast summary before we get into the specifics.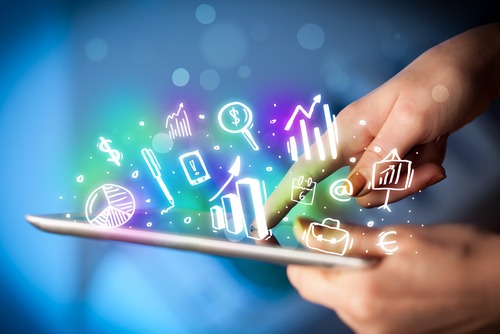 Creating your online reputation the right way
Anything that is in your search results is factored into your overall online reputation. This is in addition to your social media presence. Depending on how active you are you may have the deal with third-party sites as well.
So generally speaking keep your information on websites that you have control over, make sure you are representing yourself as you want people to see you as. Here are some great examples for you to start with:
Designing custom websites
Social media platforms (Facebook, Instagram, Twitter, Pinterest and much more)
Blogs Sites (Reddit)
Press Releases (if applicable)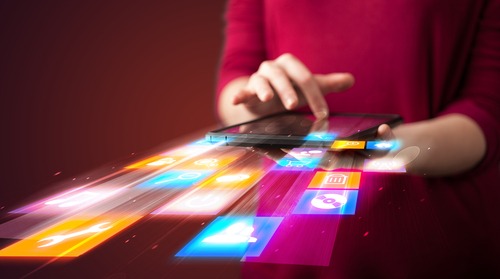 Being discovered is key to improving or building your reputation online
To put this in perspective, ~90% of all Google visitors do not venture off the first page. On top of that, most users select only from the first 4 options (paid ads or organic)
Now you also need to encourage search engines to boost important content to the top of the results, where most people will find it. Use creative and professional images and most importantly keep it original!
What factors that influence the ranking of search results? Honestly, more than you can quantify. There are endless ways that an individual can improve their overall presence online.
More factors to take into consideration:
Relevance (stay focused and on topic)
The overall power of the website
Backlinks!
The volume of visitors you have look at your page
How frequently you update and manage your information
Users behaviors after visiting your site (where do they go, how long are they there?)
Evaluate your Online Reputation
Before you can create a strategy for improving your online reputation, you need to get the "lay of the land." Follow the steps below to discover how other people see you online and how competitive your search results are.
Conduct nameless searches
Start by searching your name on Google.
Keep in mind your computer will search for related content you have previously looked at that skew your results. What you see may be different than what everybody else is seeing. An easy way to rectify this would be to clear your caches data or memory stored on your device.
Open up the settings within your browser and clear the specified boxes as shown below: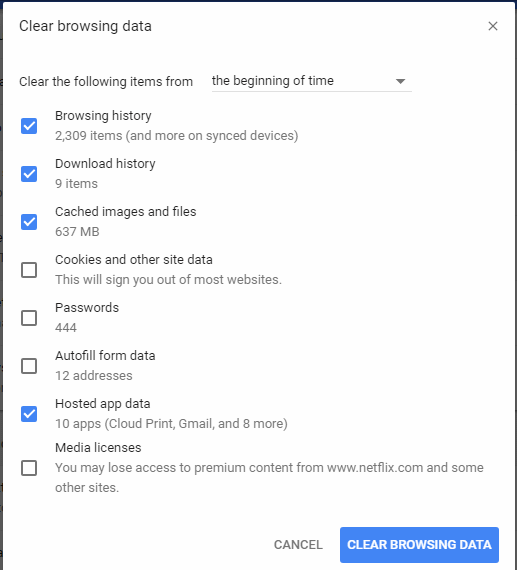 Need Advice or Help with this Issue?
Check out other sites to see what they doing
Just because you search one way, does not mean everyone else is searching the same way.
Try this out with a few variations to ensure you are covering everything.
Utilize multiple search engines (Google, Bing, Yahoo, etc)
Type your name under different variations (John Smith or John Smith Florida or even John D. Smith)
Figure out the most popular keywords or search queries related to you
Browse the internet to see what others are doing.
Determine the search volume
At this point in time, you have worked through the first two steps on how you can better your online reputation.
How people search for you
What they find
The next step is to determine HOW MANY users are researching you. Search volume determines the level of difficulty on how you will appear and what page you will appear on.
There are many tools online that one can utilize while looking for keywords with the highest search volume. Google offers a free feature that anybody can use.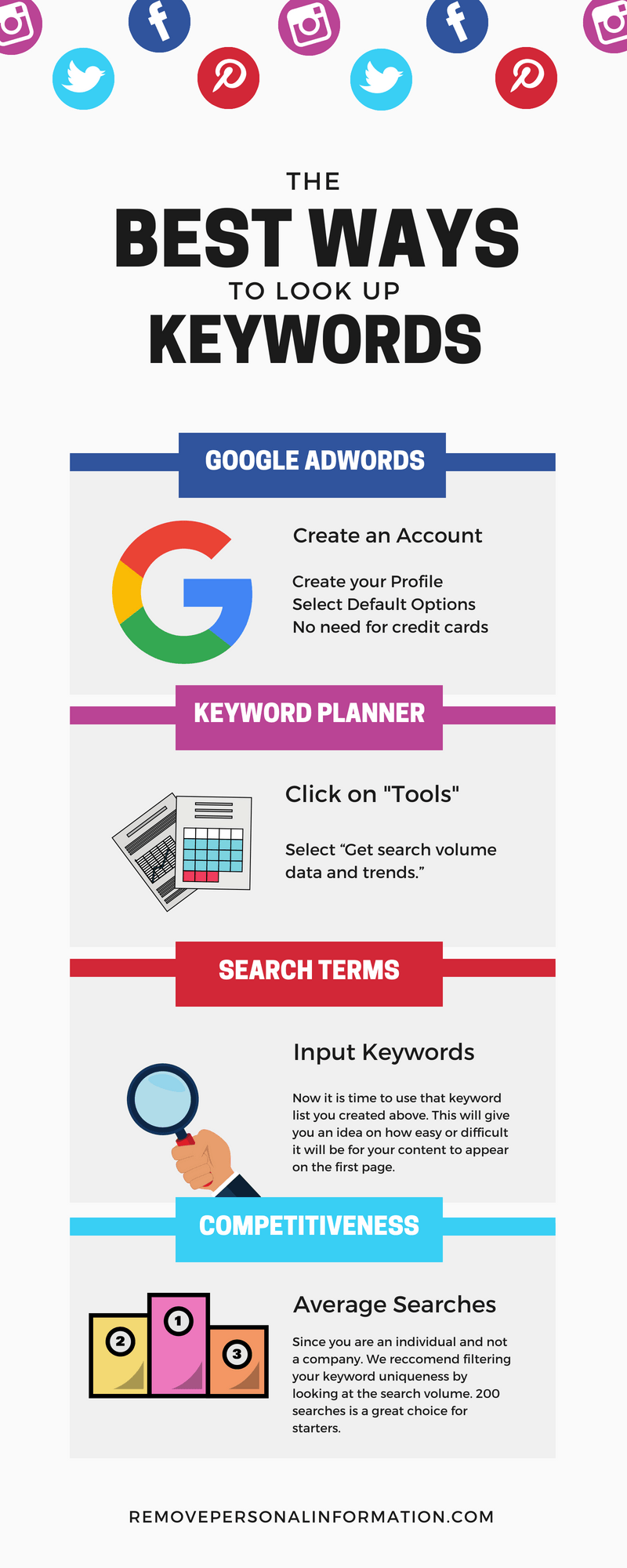 Do not worry about using lower search volume keywords. As an individual, you will have a harder time ranking on Google for popular words. Try and be creative and very specific. That works in your favor when it comes to influencing online reputation.
Understanding what you have done
Now that you can track the keywords and the overall status of your website. It is time to address bigger concerns.
Do I control any of the top sites?
What sites do I appear on?
Who is looking for me and where?
How do people find me?
How is my overall "reputation"
What are my strong suits? What is hurting me online?
There are some general categories of online reputation that most fall into. How confident are you feeling now? Knowing people are able to look you up in the light you deserve.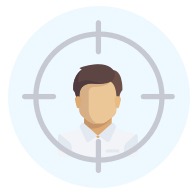 Minimal Online Presence. Be aware that your site will index on its own for certain pages like InstantCheckMate or BeenVerified.
With having little to no online presence you are in complete control of what is posted online. Remember to be professional and respectful always while working online to ensure not third-party content (blogs, comments etc) are said about you. This could be detrimental to your public image and overall online reputation.

Under attack. Once you start to rank others will notice and take action.
When working online everyone wants their information to appear at the top of course. Once they see you are working on your search engine optimization tactics they may redo some things. That is why it is important to constantly check and monitor your search visibility.
Now that you have a sense for the state of your online reputation, you need to develop a plan to improve what's out there. While planning, it's important to balance several factors:
What you want to achieve
What will have the greatest impact
What comes easiest to you
How much you can realistically do
Ignoring these principles will ensure uncertainty for why nobody is visiting your site.
To build an efficient and effective plan try out some of the tips below:
Who are you targeting
After looking into yourself you noticed that the results vary if a search query is slightly altered. (John Smith or John D. Smith)
These two factors are perfect signs on how to determine your first reputation management target. For example, let's say you're a doctor named John Doe, with the following results:
| Search term | Search volume | Search results characterization |
| --- | --- | --- |
| John Smith | 75 | Misleading |
| John D. Smith | 2 | Positive |
| John Doe Smith | 235 | Mostly positive, one negative |
As you can see above the slightest alteration in a search will render completely different results.
Set a Goal
Building your online reputation can take time. By now you should be able to see what your competition is ranking for and how you can optimize your site to combat them. Now it is time to see where you are ranking and what you can do to push other sites (competitors) off that page.
It is important you optimize your keywords per page and post. Use categories and tags to further establish yourself within a specific search. For example, if you would like to show when people type in, John Smith Florida you would need to look up the keywords for your name as well as Florida. Do not rely on the same keywords to work for everything you will not to switch it up to avoid cannibalizing your own site.
The key is to build enough successfully ranking pages so you do not have to worry about all of your pages being found. If you can land a position at the top, users will navigate within your site.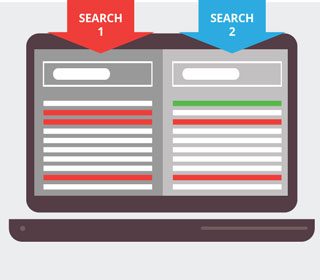 Concerned with something online? Get free advice from a reputation management expert.
Content Creation
Okay, so after finding your target market, developing keywords and ensuring you will obtain a high volume of search traffic. It is time to produce content for your readers. Be original, post often and cater to what your visitors are interested in.
Do not post photos just because you like them, vivid colors and bold text will look more enticing to your readers.
Keyword placement. Go back to the list of keywords you previously built. Start to include these within all of your blogs or pages you create on your website. Do not stack your keywords or in other words "keyword stuffing". Keyword stuffing refers to the practice of loading a webpage with keywords or numbers in an attempt to manipulate a site's ranking in Google search results.
Place your top keywords towards the beginning of the article
Randomize the placement afterward (use the same word 3-5 times)
Keywords placed in titles and headings are very beneficial.
For images, videos:
Include the keyword inside your username and profile
Use the keywords as appropriate, again DO NOT KEYWORD STUFF
Mark your alt tags with the focus keyword
Content length. When determining how long your articles should make sure there are >300 words. The longer the better so feel free to use in upwards of 1500-3000 words if you need to. Make sure the content is well collected and displayed in an easy-to-read manner. Users do not want to scroll for days until they find what they are looking for.
Include metadata. SEO is one of the most important characteristics of a website nowadays. Make sure you fulfill all requirements for the SEO Title, Slug, Meta-description and your focus keyword to maximize the efficiency of each post.
Avoid duplicate content. When the same content is made over and over again or even categorized as the same it will severely hinder your visibility online. Test different variations, for example, if you have 2 blogs about the same topic find synonyms for what you have already used. This way you can expand your visibility without competing against yourself.
Link Building: The use of internal/external links are also extremely important. This helps readers venture to other blog articles on your site (maybe for clarification on a specific topic) or you implement the use of external links by sending your readers to another source that maybe you do not cover (i.e. Wikipedia, etc.)
90 percent of users do not venture past the first page
—Google—
Monitoring and Tracking
Make sure you are keeping a tab on how your site is performing. Hiring a third-party is always a great choice to ensure everything is being handled correctly.
Time to put what you have learned to work!
By now you have learned the basics about what you need to further improve your reputation score online. You now have all the ammunition you need to have a success gameplan set on how you are going to build out your site.
If you have any questions or would like to speak with a knowledgeable expert today, please call us at 844-445-6096