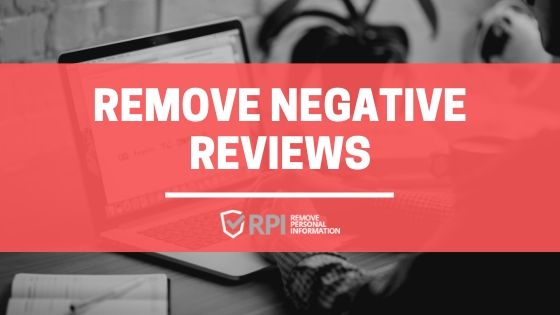 Remove Negative Reviews
How to Remove Negative Reviews
Remove negative reviews online, is it achievable? If you are a business owner, despite the nature of the business you are in, people will manage to speak about you on the internet. Most of this will be in the form of reviews and consumer feedback. 
Reviews can be astonishingly effective, but they can additionally be very detrimental to your business if they are negative. Should someone give your business a negative review, this could cost you a lot of business.
Negative online reviews can put a dent in your business's reputation.
It is imperative that you ensure a positive reputation online for yourself or your business. Combatting negativity online comes with a sense of urgency so it is important to be proactive and do not wait. 
Please fill out the form below to speak to us directly to see how we can assist you with removing negative reviews or bad press from Google, Bing, and Yahoo.
Please fill out the form below and we will reach out as soon as possible!
Why Should You Remove Bad Reviews?
A lot of business proprietors don't apprehend why they should be worried about the feedback of online customers. One negative review can end up costing your business 25%+ in revenue. Bad reviews are one of the biggest deterrents in 2019. 
What Google says about you plays a large factor in the overall success of your business.
The internet can be a hateful place that is full of "trolls". It is easy to point out a fake review but how can you take control of the situation before it worsens?
Studies show that people believe online reviews just as much as if they were left by a friend. The means individuals tend to trust online reviews more than a personal recommendation from a family member or close friend.
79% of consumers trust online reviews as much as personal recommendations
This research also revealed a number of other causes of how online reviews are so valuable, focusing on how many people view them. Reviews have a heavy influence on consumer purchasing decisions. 
These findings also explained that the level at which people trust online reviews is much higher than what it was in 2012. If this trend continues we will, unfortunately, see Yelp and other review sites determining the future of every business online.
Naturally, online reviews are your chance to make a first impression. They say you never get a second chance to make a first impression but now reviews give consumers the opportunity to judge you before they meet you or even visit your place of business.
Think about it this way, you are on vacation and not sure where to go for dinner. Most individuals will open up their smartphones and going to Google and typing in, "restaurants near me". Right away you can view Google My Business listings and reviews and filter them from highest rated to lowest.  Now, which ones are you going to choose? Be honest.
If you suffer from 3 stars or less your business may rarely be seen by those researching, costing you tons of business at the end of the day.
Which Bad Reviews Should You Worry About?
All bad reviews need to be discussed, regardless of if the review was true or fictitious, they need to be addressed. A great starting point is to run a Google search on your business' name. Search as if you are a first-time customer, do not be biased, be honest with yourself.
Have you ever Googled yourself? If you've ever taken the time to check out your search results, you may have experienced a wide range of emotions. It is important to routinely monitor your web presence, this way you can address any negative mentions and even promote the positive remarks of your business.
Achieving this will provide you the possibility to observe the reviews across the entire internet. Remember that if you can see the negative review, so can your potential customers. To avoid any brand crisis issues you must address them promptly and professionally.
In the worst-case scenario, you have a negative review on the front page of Google. This is where our team specializes to help combat that bad press by promoting your business (or yourself) in a positive light.
Before you decide to take action, you need to take the time to actually read the reviews and find out what is going on. If you can successfully resolve the disgruntled customer's complaint and satisfy their needs you may turn that negative experience into a repeat customer.
Sometimes negative reviews are not 100% bad. Reviews help business owners gain a sense of transparency, reviews can notify you of an ongoing issue that you may have not been aware of previously. 
Remove Negative Reviews – Your 4 Step Approach
There are four steps to help you remove online reviews:
Discover whether there is something you can do to solve the most popular and legitimate criticisms. Do not allow people to grow bitter or offensive to you, however, it is still important that you work to resolve any issues they may have to avoid further negative reviews online.
Delete any fake reviews or any reviews that are libelous or defamatory. Be careful not to delete genuine complaints, however, as this could really anger the reviewers causing them to post more negative thoughts about you online. Most review platforms will investigate reviews if you believe that they should not be online. This does not mean you can report any review you deem unfavorable. Only that if you know 100% that this individual was never a client or solicited your services, you may have a great chance at having the content removed.
Reply to positive reviews while being professional and polite at all times. This also goes for negative reviews. Although they may make you look bad, you may have a chance to resolve the issue as stated in the first step.
Conquer negative reviews by drowning the internet with positive information regarding your business. 
In summation, when you understand that the negative reviews are creating substantial harm to your reputation, contact a reputation management company.  
Our experts here at RemovePersonalInformation.com will assist you with removing negative reviews in addition to suppressing content that could potentially damage you or your company's name.
We have one goal, to make you look like an all-star online.
What are you waiting for?
Ready to remove negative reviews online? Contact us today to getting started.
Please fill out the form below and we will reach out as soon as possible!